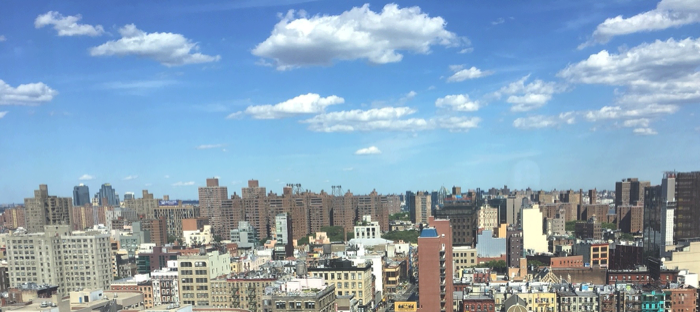 from the banks of brook avenue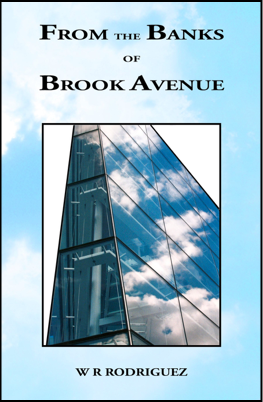 From the Banks of Brook Aveune
Zeugpress: Smashwords Edition
2015
ISBN: 9781310744402
E-publication
Sample poems from From the Banks of Brook Avenue
forbidden places
in all the forbidden places
like round the corner
and too far up the block
and up and down the you'll fall from it fire escape
and across the bad boy bad girl rooftops
of fertile pigeons and antenna thieves
through the sinister shadows of subway stations
and beware of dogs junkies
and the drunken super
basements
through the unexplored side streets of childhood
my mind wanders
that musk of the living
and dying tenement compels me
the gloom of alley and airshaft
the glow of sunlight on brick
i must navigate asphalt rivers
i must trek the broken glass
graffitied mainland to reach
the cement heart of the interior
and i will not return
i am the great explorer forever lost
in the concrete wilderness
i will discover america
flowering in the rubble
a moon full and cold
there was a moon full and cold
and i was a child in the big wide
unwanderable world
kept safe by my parents and warm
while the radiator with its ancient scales
of cracked paint hissed like a tame dragon
through the green forests
and brown fields of footworn linoleum
plastic soldiers advanced from their beachhead
to conquer the living room or to die in glorious battle
cowboys and indians skirmished at fort apache
alien spacecraft landed and robots ran amok
gallant knights with british accents
rode forth from castle walls to great adventure
fighting firebreathing worms and other strange creatures
so the countryside would be safe for travelers
and a child might sleep in bed and fear no harm
there was no gore just valor and victory and i
was general or prince or hero
anything is possible in the moonlight
this is the moon that shone over stalingrad
when death oozed through the rubble
this is the moon that glowed over the balcony
when romeo swore his love and juliet was enchanted
a leafless lifeless moon amid the tarpaper sky
which rose above the rooftops which shrouded our souls
shining white beyond empty streets and unlit windows
beyond unseen sleepers and reason and dream
a moon bright and distant
as a future as a friend as a life beyond the immediate
i pressed my nose to the windowpane and saw the moon
looming over lovers and battlefields
i wanted to sit forever in its light
to drink in the heavens to drown in wonder
ecstatic and enraptured
sated and thirsting for more
the fearless loveless bloodless moon
beyond the who and what and where of the sun's despair
its stark chill beckoned unanswerable
just another new york city subway near death experience
116th street and lexington avenue
three of us in the subway car
like some underground golgotha
when mister death walks in
not looking too kindly
we are not feeling immortal today
he is six feet tall he is five feet wide
he can sit anywhere he wants
but he stands right over me
cold eyes solemn mouth
in one hand a thick belt
dangles like a scythe
(the other holds the commuter strap
for proper balance because giants
do not like to tumble before their prey)
as the train rocks along
like the history of western civilization
which is irrelevant at this moment
of imminent doom
his eyes do not blink
his mouth does not smile
(i have lost my sense of humor
and all other sensation)
that immense hand
that mysterious belt
dangling in my peripheral vision
like a glimpse of heaven beyond pain
i cannot speak
i cannot run
the enormous gray clad arm
moves and the belt
taps my knee
taps my knee three times
his eyes do not move
i do not move
nor think nor feel
i have transcended
humanity in a subway tunnel beneath spanish harlem
and he walks off
to the next passenger
and taps his knee
three times then on to the next
three times and there are only three passengers
so he lumbers into the next car
searching for knees
and i feel like sir gawain released by the green knight
introspective and glad to be alive
i am young and i have learned
that experience is not unique
that the inevitable is
sometimes avoidable though i don't know how
and that for a mere fifteen cent token i can wander
forever searching for the man who taps knees
but when a voice says shoot boy it was just another
new york city subway near death experience
i remember that i was going to play basketball and maybe
talk to some girls afterwards though i am
a lousy shot and terribly
socially awkward
yankee kitchen
there are paintings of quaint towns by the sea
and clippers slicing windswept waters
wood trim and white bricks
a touch of new england in new york
with a whiff of chowder on the menu
harbored next to a massive gray church
where angels watch over the world
and the monstrance shines over the globe
and the winged herald on the corner wields a trumpet
louder than all the taxicabs on lexington avenue
if only we could hear it
but we sail the winds and waves of adolescence
and drift back to this modest diner
with its patina of grease and nicotine
to listen to ourselves and feast
upon just being friends
in that delicious time
before the future pulls us apart
and we become like the pedestrians beyond the window
scurrying to love to money to fashionable
restaurants or dive bars
honking like traffic at anything in the way
some of us will make the angels cry
some will just wander off
into life but for now
we have nothing to do but sit
together and sip our sodas until the ice
turns to water while ralph
the aged waiter with the patience of a saint
lean and drawn like the farmer in american gothic
and a loving smile pretends not to see
jerry use his straw to shoot spitballs at the good
citizens of nantucket so purposefully
portrayed in oil amid the rustic wooden frame
while in the infernal heat of the kitchen
the anonymous infamous fry cook grills
hamburgers cheeseburgers and anything we can afford
we do not know his name but we call him
genghis khan because legend has it he once
charged from the grill waving a butcher knife
at a customer who complained
so we laugh and to the last
lick of grease eat clean the bone
white plates of our hungry
youth
Kirkus Reviews: From The Banks Of Brook Avenue
Poet Rodriguez (Concrete Pastures of the Beautiful Box, 2008, etc.) brings his Bronx Trilogy to a resounding, satisfying conclusion.
There are few cities that have been the subject of more poems than New York. Leopold Senghor celebrated the metropolis in "To New York" (1956), Amy Lowell plumbed its mysteries in "New York at Night" (1912), and Hart Crane gave it a book-length treatment in The Bridge (1930). A complete list of similar works would run the length of Fifth Avenue, but all this verse gives limited attention to the city's northernmost borough. Many artists—and not just poets—have fallen in love with Manhattan, but few often venture much above 125th Street. The same can't be said for Rodriguez, whose latest is the third in a trilogy of books lovingly devoted to the Bronx. His verse is unpretentious though never unprepossessing, and in it, the author wears his love for the borough on his sleeve. For example, he calls Cypress Avenue, in a poem named after that South Bronx street, "a half mile of peace and simple wonder," before continuing, coyly, "or is it just childhood illusion." The fact that the Rodriguez's obvious affection for the city is cut with such caution—or perhaps it's just reserve—makes his reflections both more believable and more satisfying. Later, in the poem that gives the collection its title, the poet sounds like Allen Ginsberg in the breathless rush of his lines: "and the bootblacks toil and sweat drops from their brows / and the bootblacks beat beauty into old shoes / and the bootblacks earn a living one dollar at a time / in america where we vote for our kings / and the police beat whom they wish / and the strong beat the weak." In these lines and elsewhere, Rodriguez makes room for a strand of social commentary that not only lends his writing weight and force, but also makes the collection a compelling read for New Yorkers and non–New Yorkers alike.
A long, beautiful praise song to the land north of the Harlem River.
—Kirkus Reviews