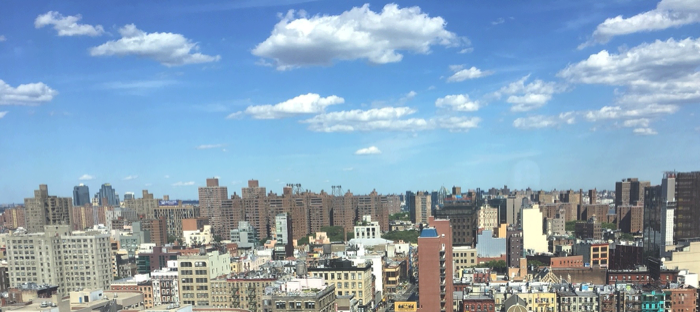 Reviews of From the Banks of Brook Avenue
Kirkus Reviews. Kirkus Reviews Issue: Sept. 15th, 2016
Poet Rodriguez (Concrete Pastures of the Beautiful Box, 2008, etc.) brings his Bronx Trilogy to a resounding, satisfying conclusion.
There are few cities that have been the subject of more poems than New York. Leopold Senghor celebrated the metropolis in "To New York" (1956), Amy Lowell plumbed its mysteries in "New York at Night" (1912), and Hart Crane gave it a book-length treatment in The Bridge (1930). A complete list of similar works would run the length of Fifth Avenue, but all this verse gives limited attention to the city's northernmost borough. Many artists—and not just poets—have fallen in love with Manhattan, but few often venture much above 125th Street. The same can't be said for Rodriguez, whose latest is the third in a trilogy of books lovingly devoted to the Bronx. His verse is unpretentious though never unprepossessing, and in it, the author wears his love for the borough on his sleeve. For example, he calls Cypress Avenue, in a poem named after that South Bronx street, "a half mile of peace and simple wonder," before continuing, coyly, "or is it just childhood illusion." The fact that the Rodriguez's obvious affection for the city is cut with such caution—or perhaps it's just reserve—makes his reflections both more believable and more satisfying. Later, in the poem that gives the collection its title, the poet sounds like Allen Ginsberg in the breathless rush of his lines: "and the bootblacks toil and sweat drops from their brows / and the bootblacks beat beauty into old shoes / and the bootblacks earn a living one dollar at a time / in america where we vote for our kings / and the police beat whom they wish / and the strong beat the weak." In these lines and elsewhere, Rodriguez makes room for a strand of social commentary that not only lends his writing weight and force, but also makes the collection a compelling read for New Yorkers and non–New Yorkers alike.
A long, beautiful praise song to the land north of the Harlem River.
--Kirkus Reviews
Jendi Reiter. North Street Book Prize: Winning Writers. https://winningwriters.com/our-contests/contest-archives/north-street-book-prize-2018
From the Banks of Brook Avenue: Critique by Jendi Reiter
W.R. Rodriguez's poetry collection From the Banks of Brook Avenue immersed me in the New York City I remember from my 1970s Lower East Side childhood—the many fertile layers of industrial and immigrant history buried under the grit and hustle of new enterprises. Here, a working-class neighborhood wages successful guerrilla warfare against the city's installation of parking meters. Here, a lethal giant could sit next to you on the subway, or an elderly saint serve cheeseburgers to your teenage crew at the diner. Cars crash into statues, and the slow-moving monsignor outside the cathedral is in danger of becoming roadkill from an indifferent bus. The ghost trains of the defunct Third Avenue El rumble through a century of American dreams of liberty and labor exploitation.
My co-judge Ellen is a die-hard Red Sox fan, a/k/a Yankees enemy. So she's really saying something when she calls Rodriguez's baseball poem "yankee fan" a modern classic. Full of streetwise humor and insider nostalgia, the sports poems in this book capture the innocent energy of an urban boyhood, where bonding with pals over games was sweet relief from the racism and bullying in his Bronx public school.
Some of the strongest poems take landmarks in the five boroughs as the focal point for a close-up on the city's political and economic past: Randall's Island, Astoria Park, the Triborough Bridge. When Rodriguez looks at these places, he also sees what used to be there: the fallen soldiers named on a memorial, the railroads and sawmills of the Northeast's vanished industrial heyday, the shuttered asylum where forgotten people were sent to die. And he dreams of a future city where rivers will be clean, workers will find rest, and the beauty of the lights will continue lifting our souls out of the muck.
All the poems are written in an of-the-moment voice with no capital letters or punctuation. While this plain-spoken style fits with the "people's poetry" motif, it is a risky choice to present 80 pages in what amounts to a visual monotone. The prose-poems formatted as unbroken page-long text blocks were particularly challenging to read. The wall of text can be numbing and intimidating without typographic variety for the eye. Capitalization and punctuation function as the equivalent of rests in music, a pause that offsets and enhances the "notes" (words). If the author's style eschews these, he needs to think more about other visual elements, such as margin indents and stanza breaks, that could replace them.
The physical book was sturdily bound and the thick linen paper had a pleasant feel. The cover, with a light blue cloudy sky and an inset photo of a glass-and-steel modern building, had harmonious proportions. However, it did not really convey the New York that Rodriguez excels at showing us—the earthy foundations beneath the glitz. This book would be great to share with urban and minority students who crave poetry that reflects their real lives with honesty and respect.
--Jendi Reiter
Review of From the Banks of Brook Avenue: Vera Ignatowitsch, Goodreads
The poems in this volume represent a gorgeous and satisfying conclusion to the Bronx Trilogy. As did the poems in the previous two volumes, they evoke place, community, family, and childhood through aging in a beautiful fullness that connects the past present and future to the grittiness of real city life on a very personal level. Here is an entire personal world and community brought to ageless life, drawn in direct, evocative language.
--Vera Ignatowitsch
Review of From the Banks of Brook Avenue: Laura DiNovis Berry, March 25, 2019
New York City may have only been the fifth girl in Sex and the City, but W. R. Rodriguez honors the entire state of New York by raising it up to play the role of the cosmos in From the Banks of Brook Avenue. Rodriguez's 2015 poetry collection delivers a seething critique of the United States of America's torrid past and a myriad of hypocrisies while struggling with the fact that no entity is an entirely flat character. All things are multifaceted, multidimensional in both their evil and good doings. Nothing is pure, "...the world is too crooked / for that;" everything is tainted and yet everything is beautiful. The complexity of the beings present in his work creates both heroes and antagonists.
As it did in Rodriguez's previous poetic work, Concrete Pastures of the Beautiful Bronx, the "...leafless lifeless..." moon once again loomsalmost ominously in the speaker's mind. This "...moon that shone over stalingrad / when death oozed through the rubble / this is the moon that glowed over the balcony / when Romeo swore his love and Juliet was enchanted...," this moon allows that "...anything is possible..." This celestial body's chilly, uncaring glow awakens in the speaker the mantra which is silently chanted throughout the rest of the book's pieces: "there are tears and joy / there are more things to fear in heaven and earth / than i can dream of..." Pain and wonder, life and death can never be fully separated from each other.
It is not a surprise that this brilliant collection won the 2018 North Street Book Prize for poetry. Rodriguez's mastery of intense, sharp staccato poetic verse blends time and space together in such a way that the reader is studying New York's distant past while simultaneously wading through the speaker's own past and present without any confusion. Rodriguez seems to transform his readers into the very air of colonial New York so they may be present for it's marbled history "before the age of development and ruin..." so they may silently bear witness to the growth and change of the area. They watch as the people of different generations all stumble through their big and little lives all toward the same destination. The history of New York which Rodriguez depicts, speaks directly to America's own, less desirable, personal history:
her mighty limb bears a beacon of hope /
a wary welcome to the new world /
where geronimo is imprisoned /
where chinese laborers are expelled from seattle /
where former slaves are massacred in a mississippi courthouse /
no one is indicted for their murder /
in this great republic where the lord /
and manifest destiny work in mysterious ways
As can be surmised from the above lines, America is an intensely complex and bitterly flawed character in Rodriguez's work. It is characterized by the speaker as an eagle watching "...his back / a wary carnivore / in a troublesome world."
Despite the troubles of this raging world, whether self-induced or otherwise, the readers will discover that New York is also brimming with treasures and memories so sweet that "... even hamlet / would find succulence in the dull world..." Though, "in america where the rivers are poison / and there are no free swims," the speaker is still able to recount the joy of celebrating Thanksgiving with family, the perfect simplicity of the job of the tire man rolling tires down the hill. That tire man "... will never run for president / he will never pitch for the yankees / but there are no spitballs / and he throws a perfect game." Rodriguez's ability to capture the beautiful obstinate nature of humanity in his work is stunning.
It also must be noted that Rodriguez's skill at holding his characters accountable through lines such as, "death is solemn / but suffering is hysterical / when it happens to others," while still being able to appreciate moments of happiness, keep his work from diving into cynical nihilism. He realizes that, like all natural predators, "humanity is beautiful from a distance," and even predators share tender moments with their loved ones between their kills.
From the Banks of Brook Avenue is an exceptional collection of poetry. One that should be shared with those individuals who enjoy lively and roaring work.
--Laura DiNovis Berry https://berryherwithpoems.com/2019/03/25/walk-from-brook-avenue-into-history/
Reviews of Concrete Pastures of the Beautiful Bronx
Review of Concrete Pastures of the Beautiful Bronx: Ingrid Swanberg
Concrete Pastures of the Beautiful Bronx is a sustained poetic meditation on the Bronx of Rodriguez's childhood and youth. These poems lyrically evoke the Bronx realities of the "promised land"—its people, ancestors, ghosts, tenements, streets, cemeteries, landlords, police, laborers, poverty, baseball, "the secrets of the land beneath the asphalt" and, above all, the joy and exuberance of the young. Rodriguez's poems are immediate and keenly felt. His arena is the human soul and its dreams, sorrows, anguish, loneliness, hungers, fears and love. He expresses a patience with America, "nation of immigrants," as rare as the beauty his poetry uncovers in the slums of the Bronx.
...such is youth
a stringed magnet
the glisten of hope in the sludge
to be caught by a patient hand...                 
"the subway grating fisherman"
—Ingrid Swanberg
     Editor, Abraxas
Review of Concrete Pastures of the Beautiful Bronx: Laura DiNovis Berry, November 9, 2018
W. R. Rodriguez's Concrete Pastures of the Beautiful Bronx was written ten years ago but it could have stepped off the presses today. Its passion is streaked with cynicism and yet this collection is filled with a bleeding kind of joy.
This poetry is a pack of howls unleashed at a blood red setting sun; however, it does open with an enchanting, surprisingly gentle, piece. "the bootblack" introduces the readers to the concept that "realty is unique / as a world worn foot" before being led into a long ago time and place. By recalling the past in such fantastic detail, Rodriguez creates spell binding poetry. After reading this collection lovers of poems will find themselves unwilling to seek any escape from Rodriguez's "crying tenements" or "the Bronx highlands."
In his work, Rodriguez takes hold of every pair of rose colored glasses he is able to find and smashes them to bits with a lusty relish. Though the "street signs mock the history beneath our feet," he tells stories of the past which are peppered with all the sins and graces he can remember; the results of his labor are transcendent. For example, throughout the ages all sorts of romance has been attributed to the moon but in Rodriguez's city that romance is stripped away. Instead, that often lauded glowing celestial body is described as "sullen" and it does not peacefully watch over the sleeping world below. Rodriguez's moon is "howling."
The painful aspect of life are found everywhere. Even in the fond memories of playing as a child in his little red fire engine, Rodriguez recalls:
the black sky /
the brown smoke /
it is all just another insurance payout /
a cheap eviction of unwanted tenants /
this is the incense /
of the church of the bronx /
There is an acceptance of danger and death in all of his pieces. There will be a gentle breeze flowing one moment and in that same breath either a brutal beating may occur or someone will get lucky and evade such an attack. Peace describes but a single moment, not a state of mind in this world. Despite the harsh setting Rodriguez creates, his pieces are filled with "such intonations of love" for his home even though he knows "the police prowl," even though he accepts that "hell is the streets where we suffer and die."
Rodriguez's style is blunt (it is quite similar to prose author Cormac McCarthy's) with a severe lack of punctuation and forms of capitalization. His flagrant disregard for frills of any kind truly allows the awesome power of his words to strike out with all their ferocity. His sparseness does not dull any imaginative turns of phrase though. In "the great american motorcycle boots" he creates not only a wonderful visual of the diversity of his community as he notes the "junkies," the "shanty Irish cop," and even "the tourists" but then in turn sends out a condemnation of his society at large. His words are chilling: "the flag won't mean a thing / when the police beat him senseless in the alley." There are many fantastic poems in this collection but none stand out so much for their ability to appeal to today's audience or for their formidable tone as this one does. For readers who tend to flit through poetry books, some advice is offered: read "the great american motorcycle boots."
Concrete Pastures of the Beautiful Bronx is available on Amazon.com and is a recommended purchase for all readers who are interested in taking on a true poetic journey. Concrete Pastures of the Beautiful Bronx is in fact part of a trilogy; its companions being From the Banks of Brook Avenue and The Shoe Shine Parlor Poems et al. With Rodriguez as their guide, readers will walk the pavement of the Bronx to the beat of "those drums those drums those hysterical dead skins."
--Laura DiNovis Berry
https://berryherwithpoems.com/2018/11/09/w-r-rodriquezs-words-guide-readers-through-the-beautiful-bronx/
Reviews of the shoe shine parlor poems et al
Laurel Speer. Remark, Number 4, Fall 1991. p. 6.
"I had read William Rodriguez's The Shoe Shine Parlor Poems several years ago. Happily, the book is still in print and very much available for sale from Ghost Pony Press, one of the 'good parts' of having one's book published by a conscientious and caring small press. Rodriguez has a mixed ancestry of Spanish, Puerto Rican and Italian. In the opening poem of this collection, he tells us how his forebears came to the South Bronx, where his maternal (Italian) grandfather set up the family business, a shoe shine parlor:
'i worked there seven years sweating/reading plato's symposium tristram shandy/playboy magazines between shines/not speaking spanish or italian but laughing anyway/at the customers' dirty jokes.' I'll have to give credit to anyone who could read Tristram Shandy anywhere, much less while snapping rags and plying brushes shining shoes. Rodriguez goes on to give us vivid images of the characters, ambiance, streets, his family members and inner feelings about the external sights and sounds he recreates so concretely for us in his lyrical poetry. One wouldn't think that such subjects as police brutality, drug addicts and marginal bums (to the outside eye) would much lend themselves to lyricism. And yet his poetry has a lilt and sweep that lifts his subject material to a level of celebration and song without any false patina of leaving things out or shining us on...."
--Laurel Speer
Mary Ilario. The Bronx County Historical Society Journal, vol. xxvii, no. 2, Fall 1990. p. 82. "Mr. Rodriguez's poetry is not pretty. It takes you where you don't want to go. You sit with him on a stoop in the South Bronx and observe a world of quiet despair. The erratic rhythm of his poems evokes images sharp as photographs. You meet the people of his world, a world filled with casual violence and brutality. Mr. Rodriguez does not waste words. His poem, "The Long Walk to Bed," takes up one quarter of a single page and fills every corner of your mind. No, his poetry is not at all pretty, but it is very beautiful. I think you will find it well worth reading, even if you don't like poetry."
--Mary Ilario
Rochelle Lynn Holt. The Pilot (Southern Pines, NC) , Aug. 90.
"The poet-teacher grew up in the Bronx, the source of his first poetry book. The book and guide are helpful for teachers planning a unit on poetry that is diversified and representative of various regions and ethnic groups in the U. S. There are poems that are universal despite their environmental ties like 'Weeds' ... 'we are sad weeds who watch cities rise like tombstones from the graves/of our ancestors...we are weeds we dream of freedom.' 'The Shoe Shine Poem' really happened, according to the writer in his Teacher's Guide which provides a Poet's Intro, Vocab, Concrete and Abstract Thinking questions along with a creative task. 'i tell ya man/i finished the shine/& as he got off the stand/i saw a gun in his belt/i started praying/as he reached for his wallet...' As he says in his Preface, 'the adolescent responds best to the individual message and personality of an author as expressed through narrative characterization or lyrical outcry.' Single-authored poetry books in school may be the wave of the future."
--Rochelle Lynn Holt
Warren Woessner. A View from the Loft. Date unknown, @ 1986. p. 4.
Recommended Reading: "Sharp-edged poems about growing up in the south Bronx, where 'night calls the ghost of spice/fried fish and incense /to dance out the windows.'"
--Warren Woessner
The Fessenden Review, vol. ten, no. four, 1985. p. 58.
Books In Brief: ssppea rated very good content, ho-hum layout. Reprinted "the day i threw thoreau off the roof."
Samisdat. 1985. pp. 19-20.
Poetic Injustice: ". . . ssppea presents a vivid slice of life in Spanish Harlem (sic), albeit hard to read because of his highly eccentric verse form. Each poem offers a different voice, from those who've established themselves somehow early in the book, to a Central American refugee toward the end : 'day and night they disappear...they disappear/some beaten on side streets in the afternoon/while the children are in school studying history/some dragged screaming from their lovers' arms/before the newborn moon can open its eye...' 'Little Spic' becomes a macho hero for braining a racist mugger in desperate terror. Frank the former boxer successfully sues the narcs who nearly kill him for the hell of it (or because they lost a bet.) Another cop clubs old Jim the black janitor unconscious, without provocation in the wake of a riot, but Jim refuses to sue because he believes in law 'n order. But it's not all grim violence. A smart-alec kid prays for sneakers in front of an old lady, while a buddy drops a pair into his hands from above--a purported miracle."